For many of us, a comfortable, cozy home is what we want to be welcomed by after a long day of work. The colours and patterns you use can have a big impact. Here's a look at how you can add warmth to your home with Harlequin Momentum.
When we think of a cozy home, the first thing that comes to mind is likely cushions, rugs and blankets. Whilst these are key to creating a room that is comfortable and homely, the colours and patterns that you use can also affect the feel of the room.
As part of their 'colour story' of the month, Harlequin has put together some colour palettes that highlight how you can add warmth to your home with their Momentum collections.
What is the Harlequin Colour Story of the Month?
Harlequin is known for its inspiring colour stories, creating luxurious palettes of colours and patterns that can add a cohesive style to your home. Harlequin's April colour story of the month is Rosewood, Saffron & Parchment. Here's a closer look at how you can use it to add warmth to your home.
Bold Warmth
Combining different colours and patterns from across the Momentum collections, you can really go big and bold with your interior design. Being brave with your style can create an immersive experience with accents of rosewood tones. Complementing this with hints of pink and rich saffron, you can design a unified room with stunning drapery centerpieces.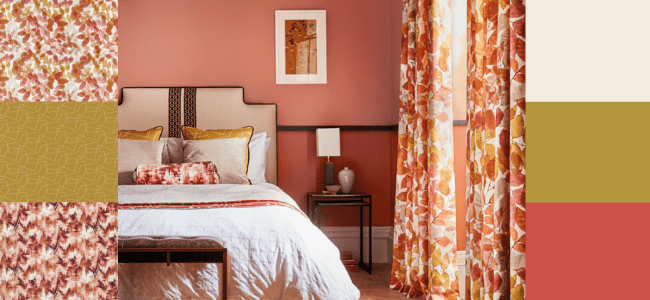 Organic Warmth
If a subtle style is more your thing, organic warmth may be the route for you. Using organic and more natural hues can create a calming warmth that encourages a soothing and wholesome atmosphere. Cool tones like Pebble alongside 'parchment' hues produce a grounded and natural look. Complement this with stunning designs such as Tessen and you'll have yourself a welcoming, cozy 'cocoon'.
Empowering Warmth
For a more impactful look, using powerful tones that are framed by more subdued and subtle tones is a great way to add warmth to your home with Harlequin Momentum. Splashes of gold and hints of saffron can be balanced with blacks and greys. This adds vibrant bursts of warmth to any home. Empower Plains from the Momentum collection can be used to add the final touches to your look.
Hopefully, this look into Harlequin's colour story of the month has inspired you to add warmth to your home. If you have any questions, our in-house interior designer Gina is always here to help. You can book your own personal consultation with her using our easy online booking form.
If you'd like to see more of Harlequin's fabrics in person, you can also book a visit to a showroom where we have a range of samples so that you can appreciate their luxurious textures!