What is 'Momentum'?
New for Spring 2021, Harlequin recently announced new additions to their Momentum collection. A mixture of wallpapers and fabrics, Momentum is a broad and exciting collection. It represents the juxtaposition that we often see in our day-to-day lives between man-made structures and natural beauty.  This is truly a stunning collection that features key colours including tobacco, rosewood and saffron. It is full of warmth and is complemented by the addition of an exciting metallic bronze.
These new designs are included in their Momentum 07 Wallpapers, Momentum 13 Upholstery and Momentum 14 Drapes, all new for Spring/Summer 2021.
With the announcement of these new additions, Harlequin has released colour stories. These are to demonstrate innovative ways that fabrics and wallpaper from across the collection can be used to express your personality.
Let's take a closer look…
Tobacco & Cobalt
This colour is extremely sumptuous. It features deep hues of cobalt, which are enhanced with coppery tones. Layered with tobacco highlights, this is a contrasting scheme that offers a bold style and is full of drama.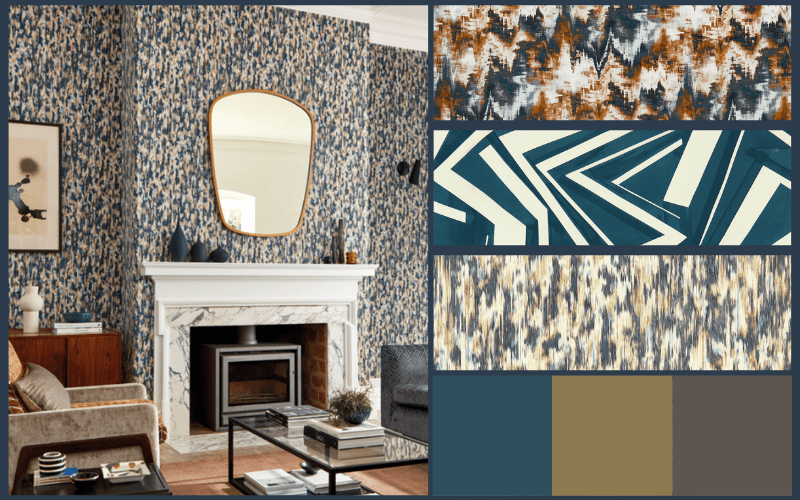 Golden Glows
Going in a different direction to their Tobacco & Cobalt colour scheme, Golden Glows offers a subtle decadence. With a stronger focus on tobacco tones, it is warm and soft and is full of neutral hues. It combines pebble tones with shell white to enhance the tobacco tones for a radiant look.
Ebony & Gold
An elegant combination of the other colourways, Ebony & Gold showcases a more monotone scheme. It has injections of colour with vibrant pops of coppery tones. This combined with sleek charcoal hues makes for a stylishly modern scheme.
Using 'Momentum' in Your Home
All of Harlequin's fabric and wallpapers truly are stunning and we really wouldn't be able to choose a favourite. You can view their full design book on the website which features even more colour combinations. Full of luxurious wallpapers, velvety fabrics and soft materials, it can add decadence to any home.
If you are interested in incorporating Harlequin's 'Momentum' into your interior design, Winnens are here to help. We can source materials to create made-to-measure curtains and blinds as well as gorgeous wallpapers.
Why not book your personal consultation to discuss your requirements further?