Interior Design Trends that are set to become popular in homes throughout 2023.
Interior Design is the style that shapes our homes. Using colour, materials and accessories, we create aesthetics that mirror our personalities and set the mood for our home. In this blog, we will dive into the top interior design trends that are on their way in 2023 and may have already started to appear in people's homes.
Personality Inspired Interiors
In the era of Mrs Hinch and the rise of interior design Instagram pages, many homes became filled with near-identical aesthetics. These Pinterest-perfect rooms were filled with neutral tones and very little colour.
It's been noted by designers that 2023 will see the transition to more personality-inspired interior design. People's homes becoming a collection of old and new, according to New York City-based designer David Frazier.
Whilst minimalism still has a place in many homes (as we will discuss below), there is likely to be a rise in homes that feature bright colours, warmth and character.
Sustainability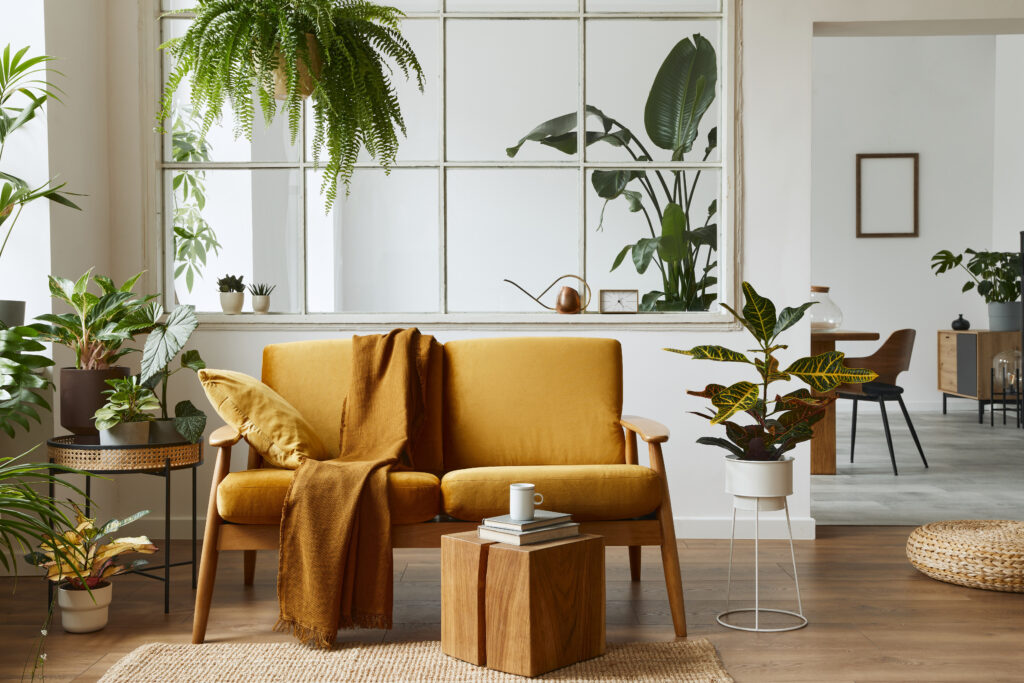 It's no secret that sustainability and eco-friendly design is at the forefront of people's minds for 2023. We are more mindful than ever about the products and materials we are using for our homes, meaning sustainable designs will take centre stage.
The key questions being asked are "where is this made?" and "how is this made?".
This ties in slightly with our first trend, where consumers were simply buying cheaply made furniture and accessories to meet fast-changing trends, instead of making more conscious buying decisions. It's highly probable that people will look to invest more in better quality, more sustainable pieces that will stand the test of time.
Cork and Aluminium
Designers are on a mission to adopt more eco-friendly materials within their designs. Materials like bamboo and linen are already popular amongst consumers, but cork and aluminium are anticipated to increase in popularity in 2023.
Upcycling
Another key interior design trend for 2023, following on from sustainability, is the upcycling of furniture. Whether a keen DIYer does this themselves or invests in a professional to carry out the upcycling on their behalf, there's definitely an attitude of 'reduce, reuse, recycle'.
Warm Woods and Wicker
As we talked about previously, homes used to be a place for cool, grey tones, especially during 2020 – 2021. However, now the move is onto warmer tones and that goes for the materials being used in the home too.
Earthy tones and warm woods are in for 2023. Particularly the use of materials like wicker. Wicker not only offers a chic aesthetic, but it's also in line with a sustainable living ethos.
This multi-purpose material can be used both inside and outside the home – tying in with the previous year's trend of 'outdoor living', creating spaces outside that are cosy and give the same feeling as being in a living room.
Sunset Hues and Muted Tones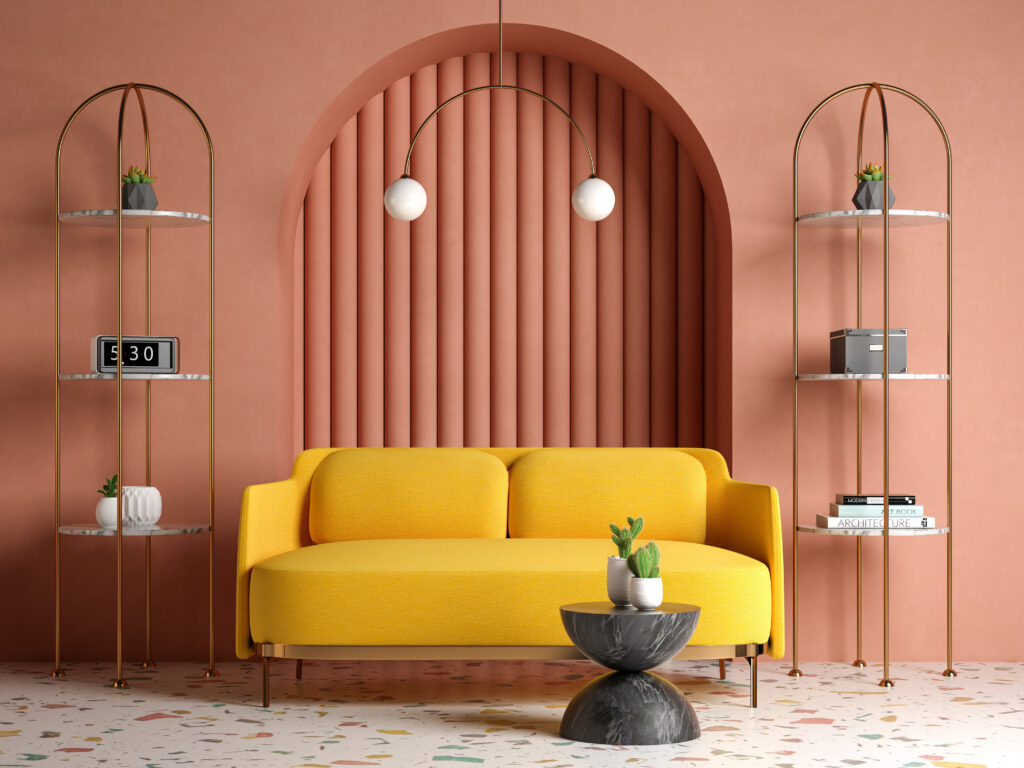 Tying in with the theme of warm tones, there's set to be a rise in sunset hues including golds, browns and even terracotta.
Gold is back, but gently. This interior design trend of 2023 re-introduces gold in a muted fashion, sometimes even in a sandy tone. Thus, resembling stunning sunset landscapes, a perfect complement to traditional neutral colours.
Terracotta and Stone
This trend of warmth continues through to the resurgence of terracotta. This burnt orange shade, including caramels, and deep corals are going to be dominating homes in 2023. This palette not only adds warmth but also creates a soothing aesthetic that is stylish and cosy.
Statement Lamps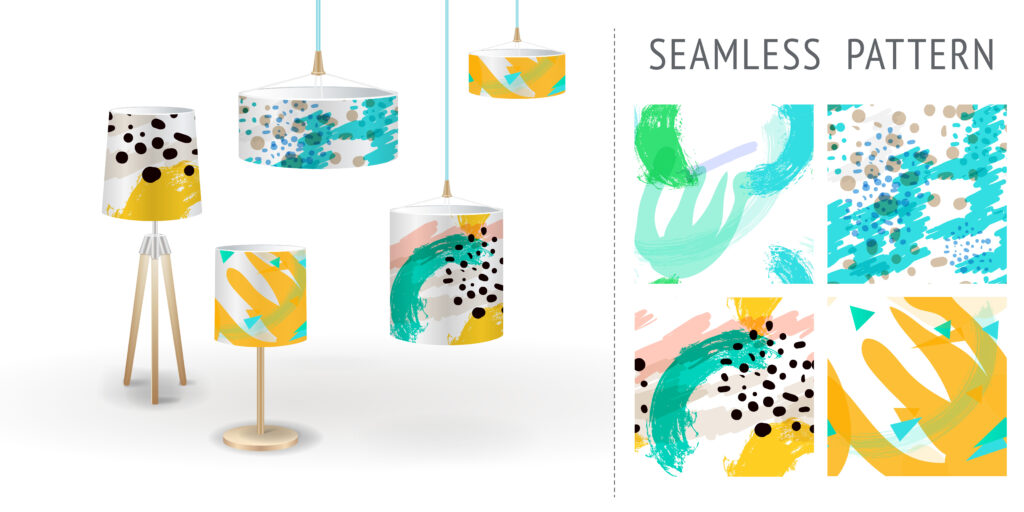 In line with the trend for more personality, it is likely we will see extravagant, statement lamps in homes for 2023.
Glossy finishes, elaborate lamp shades and patterns are set to be popular this year. Lamps can be a great way to inject colour into a room, you may be cautious to add a bold wallpaper or curtain but a statement lamp could be a compromise.
Mood Lighting
A great way to set the mood of your home is through lighting. Lighting has the ability to brighten up a room, making spaces feel larger and also creating cosy spaces that are warm and inviting.
Lighting can play a huge role in the overall look of your home, in fact, according to Lick's lead colour consultant, Sam Bramley, "Lighting is the second most important design element in your home, after colour."
At Winnen's, we have a variety of environmentally friendly products and brands that we supply. If you'd like more information on our ranges, or to discuss your interior requirements for flooring, curtains, blinds or wallpapers, get in touch today.