The floor is a fundamental surface in your home, one with the ability to add colour, pattern and texture to any space. A common mistake people make when choosing the floor is thinking they need something to simply 'blend in'. However, choosing the right floor colour can truly transform your home.
In this blog, we will help you view your space objectively, and identify which floor colour will be right for your home.
Consider Natural Lighting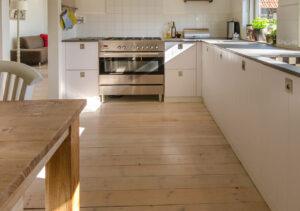 For smaller rooms in particular, a lighter-coloured floor can instantly create the impression of space. This can be a great choice for communal areas like kitchens, hallways and dining rooms. A light-coloured floor like bleached oak, scandi pine or limed oak can do a brilliant job of reflecting any natural light. Paired with natural shades on the walls they can also complement bolder colour choices for your furniture or home accessories.
However, if you are looking to create a cosier atmosphere to your room, perhaps for a living room or bedroom, a darker-toned floor may be the answer.
Add Your Personal Style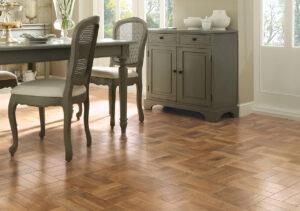 In our last blogs, we talked about how personalised style is going to be big in 2023. The same goes for your flooring choice. You may want to make a statement with your flooring and opt for a pattern or something more unique. Or you may have some bold furniture choices that you hope to draw attention to, in which case a more neutral-toned floor would be a better option. Another factor to consider is which other room this room is connected to in your home, do you wish to create an overall aesthetic for your entire home, or do you want each room to have its own mood?
Create the Right Mood
Speaking of mood… this is something that can easily be impacted by the colour choice of your flooring. Colour can instantly impact on our mood. Shades of red, orange and yellow can inspire creativity, tones of green and blue can help calm and relax us. Darker colours create a level of comfort and cosiness, while bright colours may leave us feeling refreshed. Choosing the right floor colour for your home is just as important as your wall colour for creating your desired mood.
Light vs Dark Wood Flooring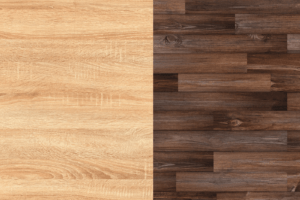 Benefits of Light Wood Flooring
Light wood flooring or vinyl flooring will enable light to bounce around the room. Making the room brighter and more vibrant. Choosing a limewashed floor will beautifully complement a scandi or coastal design theme.
Light wood flooring pairs perfectly with shades of white, pale greys or pastel colours. It's the ideal neutral base for any home.
Benefits of Dark Wood Flooring
Dark wood flooring is a great choice to accompany antique timbers, leather furniture and other items with rich tones – like velvet. Dark wood is timeless, giving any room an instant level of elegance. It looks great with vintage florals and bold colours like fuchsia or royal blue.
Choosing the Right Floor Colour Today with Winnen's
Here at Winnen's, we are a supplier of real wood and luxury vinyl flooring from brands like Karndean, Amtico and LG Hausys. If you would like help and advice on choosing the right flooring for your home, get in touch with our team today or visit our showroom.
There's also a handy tool on Karndeans website called the floor style visualiser, you can try it out here!